Pediatric Chiropractic in Kyle
The birthing process, by nature, is considered traumatic. Many children don't show any negative effects; the sooner your newborn is checked by a pediatric chiropractor, the better.
Why Does My Child Need Chiropractic?
When children have pain or injuries to their system, we do our best to figure out where it's coming from and knock it out to prevent future problems. By being proactive, we can prevent any symptoms associated with the growth process, especially in the crawling and walking phase, and allow your child to reach their various milestones with ease.
Many parents don't realize chiropractic care is available for children until they see the pictures on our walls of kids being adjusted. Once they find out, we start them on a wellness plan to prevent wear and tear on the spine and keep them healthy. Chiropractic gives children a head start on lifetime health and wellness.
Is Chiropractic Safe?
Considered highly safe and effective, pediatric chiropractic provides many benefits for your child, including improved function and development of healthy habits. A natural, holistic healthcare tailored to infants and children, our care is extremely gentle. Babies are adjusted with less fingertip pressure than you would use for testing the ripeness of a tomato.
Chiropractic addresses many pediatric conditions: constipation, torticollis, postural issues, better curvature in the spine, ear infections, asthma, ADHD, latching/breastfeeding issues, digestive problems and more.
Children love chiropractic! We put them at ease by playing with them. We might adjust a stuffed animal, have them feel the tools we'll be using, or let them watch mom and dad get their adjustment. Once they realize it doesn't hurt, they respond quickly and well to their adjustments. Before you know it, all that natural energy will be back!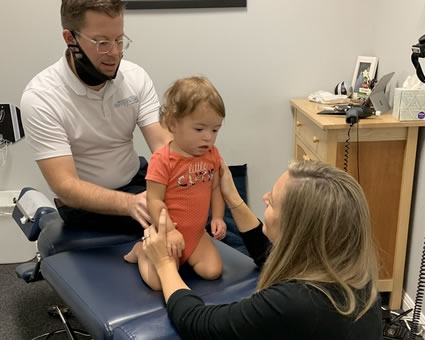 Ready to Book Your Appointment?
It's never too early to make sure your child has everything they need to grow, thrive and meet their milestones. Book an appointment and get them on the right track. Contact our office today!


Pediatric Chiropractic in Kyle, Buda Driftwood, San Marcos TX | (512) 405-0400