Sports Chiropractic in Kyle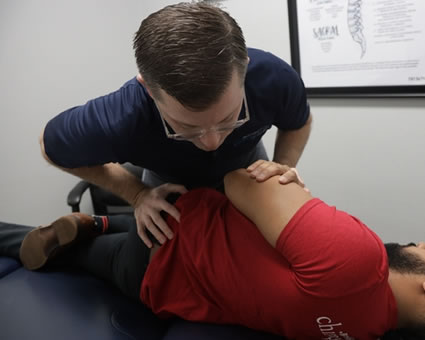 If you're active in sports or other physical activities, injuries can happen. Doesn't matter if you're a weekend warrior, involved in school sports, or former professional player, we can help relieve your pain, help you rehabilitate, and get back to doing what you love.
At Browning Family Chiropractic & Wellness, we focus on where your injury is, and how it happened, not the sport you were participating in. Every injury is unique; to provide the proper treatment, we need to gather as much information as possible.
NEW PATIENTS »

What is Sports Chiropractic?
Sports Chiropractic is therapy to reduce pain, speed the healing process, and correct any issues connected with your injury. Basic chiropractic principles are used, focusing on strength and conditioning in your rehabilitation.
Sports chiropractic treatment can help reduce soreness, increase ROM (range of motion), improve flexibility, focus and coordination. Athletes recover faster from injury when restricted joints are released.
Regular
chiropractic care
can also improve sports performance, strengthen your body, and provide a level of injury prevention. Safely returning the athlete to activity not just healed, but stronger is our goal.
Can Chiropractic Help Me?
Many patients are surprised at how chiropractic care can make a difference in how they feel. Pain doesn't always originate in the area that's hurting. Getting to the root of what's causing your pain is key to providing relief. Once you treat the cause, pain relief and restored function follow.
Research has shown that our bodies respond better after adjustment. Muscles are unable to function at their peak when the body is out of alignment. Restoring proper movement reduces the opportunities for a breakdown later.
Our patients have seen improvement with focused chiropractic in relation to:
Back pain
Shoulder pain
Knee pain
Foot pain
Sprains/strains
Concussions
Headaches and more
Relieve Your Pain Naturally
Natural, holistic chiropractic care can reduce your pain, help you heal, and get back to doing what you love. Contact us today to make an appointment and get the relief you need.


Sports Chiropractic in Kyle, Buda Driftwood, San Marcos TX | (512) 405-0400